Back-to-School Ideas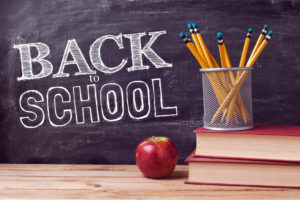 It's back-to-school time and no matter your student's age, we could all use reminders and helpful tips in preparation for the next school year.  We've rounded up a few of our favorite ideas to share.
Good Housekeeping has thought of everything! Take a few minutes to look through their back-to-school section and see if anything captures your attention.  Their 30 Unique Teacher Gifts page has some really cute ideas, the 15+ Creative First Day of School Photo Ideas offers the elaborate to incredibly simple, and The Ultimate Back-to-School Shopping List (from Kindergarten to College) is just plain awesome!
These Do-It Now Tips to get ready for Back-to-School has systematically thought of the important things to do in getting ready for the new school year. There are useful printables at the bottom of the post.
I've never thought to create a homework station, but this post from polkadotchair.com has inspired me! I'll be creating one this year.
Another idea to try – Pack a bag.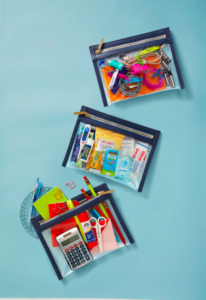 Keep pre-made kits in your car, so you always have what you need. Fill one with tech needs like spare chargers and batteries, one with first aid necessities, and another with homework helpers like a calculator and extra pens and pencils.  Picture from Good Housekeeping/Alison Gootee
Amber at crazylittleprojects.com has put together a collection of how to celebrate the upcoming school year with your kids.
For the crafty moms out there, Beth at homestoriesatoz.com, has got you covered. There are tons of printables – lunch jokes, teacher gifts, schedules. You name it, I think she's thought of it.
Last, but not least, 15 Back to School Organization Ideas from Jen at tatertotsandjello.com. I want to try several of her ideas – a homework station in a box (so you can put it away), school binder for memories, two types of lunch stations, back to school organization center (to keep those papers corralled), teaching kids good study habits and much more!
If you try any of these ideas or have any to share, please, leave us a comment. We'd love to hear from you!