Closet Organization
I don't know about you, but I get the desire to organize my home right before the kids go back to school. I think about what spaces and processes might not have worked previously and how I can make life easier for the upcoming school year. Do you enjoy organizing now or are you soaking up those last days of summer by the pool? Either way, these closet tips may come in handy and will be here when you're ready to organize.
There are two things to take into consideration when facing an overhaul of any type of closet. First, you will likely need to declutter. Commit time, remove everything and give the closet a good cleaning. If it's in need of paint, think about a color that you would enjoy every day.
Secondly, ask yourself some of important questions:
What should this closet accomplish? Anything that doesn't fit the description needs to go elsewhere.
Would I buy this again today? If it doesn't fit, if you don't wear it or it hasn't been used, let it go.
Lastly, Is this convenient? Sure, I'd love to open a pretty box to drop my stuff into when I come home from work, but in reality, I'm going to drop it on the most convenient surface. Think about HOW you live and configure your spaces to match.
Here are some tips for specific types of closets:
Clothing Closet
Include a space for dirty clothes within the closet. A bottom hinged door or a pull-out for laundry is great for tucking it away.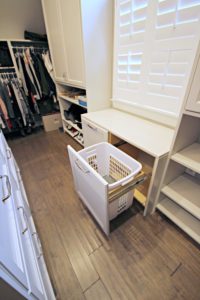 Keep a small basket with items you might need on hand: stain treater pen/wipes, small mending kit, bag for delicates/dry cleaning, lint roller, scissors to clip tags, double-sided tape, a snag puller and static guard.
Tuck away an ironing board to have on hand when needed.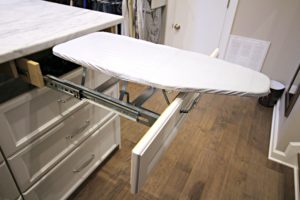 If you want to protect your wool or cashmere with cedar, you can use cedar boxes, hang ups or sachets from Amazon.
Hang high. Rev-a-shelf.com and Hafele.com have specialty hinged pull-down rods you can use with a hook.
If you can add a bench to your closet, use it for storage. It would be a great place for handbags, brief cases, boots, extra blankets or out-of-season clothes. Serves as a great place for putting on stockings and shoes.
An extension valet hook or a hook on the back of the closet door is handy for hanging tomorrow's outfit.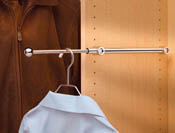 Slide-out storage extensions can hold belts, ties, or scarves, and takes up little space.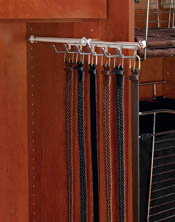 Save the topmost shelves for out-of-season clothing bags.
Bulky items and sweaters may stretch on hangers. Roll and store in a hanging shoe organizer or square cubbies to optimize space and keep the garment's shape.
Add S-type shower hooks to hang bags.
If shoes are sitting on a shelf, stagger them to get more space. Another clever idea is to use a serving tray for flats or flip flops so you can tuck under a shelf or under hanging clothes.
Kid's Closet
Keep in mind that a child's closet needs to be adjustable so it can change and grow with them. Shelves, baskets, easy-to-pull drawers can tuck items neatly away. Cubbies and bins that are easy for the child to use, can help in training them to put things away.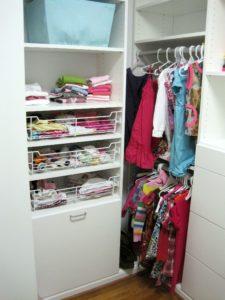 Labels! Use picture labels for pre-readers. Here are some cute ones on Etsy. If an adhesive label won't work in your environment, consider using luggage tags. They're stylish and easily changeable.
Use rods, shelves or bins at the top of the closet for out-of-season or next-size clothing.
Don't forget the door! Adjustable racks are great for books and over-the-door shoe storage works for stuffed animals or other small items.
Front Entry Closet
Storage by the front door is valuable. If you don't have a mudroom or drop zone, but have a closet that could be converted, consider removing the rod and adding hooks for frequently used backpacks and sports bags. Add a built-in or free-standing bench to make it easy to put on shoes. Consider having a bench that has storage for the out-of-season jackets.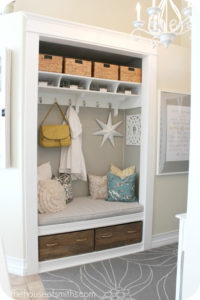 Hang a clip board or a mail holder to keep homework and permission slips where they won't be forgotten at home.
Organized closets can reduce stress and make life easier. If you need help tackling a closet renovation, please, give us a call. We'd love to help!
*pictures from the internet linked to the original sites.