How to Thrive During a Kitchen Renovation
You've heard the horror stories.
"My kitchen remodel took a year!"
"We ate microwave meals for months!"
"Every fast food place within a mile of my house knows me by name!"
At Guthmann Construction, we don't want you to have a survival story; we want you to thrive during your renovation, but how?
Enjoy The Adventure
You're getting a new kitchen! That can be exciting, daunting, overwhelming, exhilarating, exhausting, & dream-fulfilling. Isn't that what an adventure is supposed to be? You'll be exposed to new people in the home remodeling industry, new products, and new ideas. You can spend untold time finding inspiration on Pinterest, Houzz or by searching through a variety of home décor magazines. Grab a folder and gather pictures, write down questions and have one place to keep all the information regarding your project.
Before the actual work begins, get packing boxes and take the time to purge expired items, utensils that have multiplied, plastic keepers with no lids, dull knives and never-used gadgets or small appliances. You only have to "move" one room, instead of a whole house, so take some time to declutter. When it's time to return the kitchen items back into their sparkly new home, you'll be glad you culled the things that didn't bring you joy.
Order your dream appliances. The refrigerator doesn't have to talk, unless you've dreamt of that, but it's worth the money to change out your appliances and have them installed during renovation. When a space is redesigned to work more effectively, it's smart to not work around existing appliances, but to purchase new ones that fit into the space.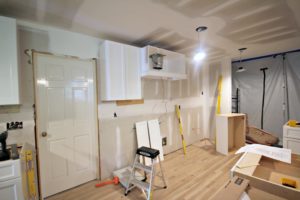 Embrace The Challenges
A renovation is disruptive, noisy and dusty; however, Guthmann Construction limits it's work hours to not disrupt your peak family time and takes steps to contain their construction footprint while they are working.
How will you work around the renovation? Some home owners move their refrigerator and microwave into another room for ease of use. If you're planning on keeping the old refrigerator for extra storage, moving it early is a great way to have convenient access during the remodel.
You may want to pack up your dishes and buy a jumbo pack of disposable plates and cups. Once you've tried to clean dishes in the bathroom sink, you'll be wishing you had stocked up on paper plates. You may want to imagine you're on an extended picnic. How creative can you get with your meals?
Employ Some Practicality
Be practical in your remodeling selections. If you're going to have splatters of tomato sauce or spills of red wine, go with a counter material more stain-resistant than marble. If you have beautiful pieces to display, opt for more glass front cabinets. Think about how you will use the space and work with our Design Team to fit your cabinets to their expected uses. There are a variety of inserts that can transform any organizational issue.
Take time to listen to the experts who will guide you on what works well together. Do you want a countertop that shines? Do you want a backsplash that wows? Sometimes less is more, but you should know where you want to make a statement and let the rest of the remodel blend with your standout feature.
The renovation process isn't perfect, but with Guthmann Construction, we've tried to shorten the construction phase by choosing your selections before we begin and communicate every step of the way. Have you been through a remodel? Do you have any tips that helped you survive (or any tips that you wish you had known?) We'd love to hear about them!