Prepping Your Home for Fall & Winter (Tip 5 of 5)
It's hard to imagine in the middle of August, but cooler temperatures are coming. This is the best time to prepare your home's transition from hot Summer days to crisp Autumn evenings to freezing weather in Winter.  Each day this week, we will highlight an area of home maintenance homeowners should tackle now so they can focus on seasonal events and family holidays later this year.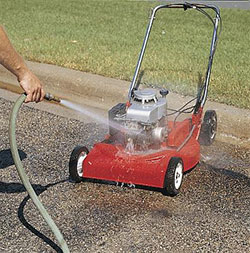 #5: Clean and Store Lawn Equipment: After a summer of yard work, gas-powered equipment such as mowers, trimmers, tillers, and chippers can all benefit from service before being stored for the winter. This basic checklist will get you started on equipment maintenance, but be sure to check the owner's manual for any specific requirements for your machines.

Empty the fuel from the equipment. Gasoline can degrade, and ethanol can damage fuel lines and other components while stagnant.  At the end of the mowing season, use up as much of the gas as possible. Remove remaining gasoline with a meat baster and then run the engine until it stops.  Check with local waste management or public works for the proper way to dispose of the fuel.
Clean the machine of oil and yard debris, and then sharpen the blades.
Store them for winter in a basement, garage, or covered storage shed where they're safe from the weather.