Heart of the Home Kitchen Tour
Guthmann Construction is proud to be one of this year's sponsors for the Heart of the Home Kitchen Tour taking place next weekend, March 16 and 17, 2018.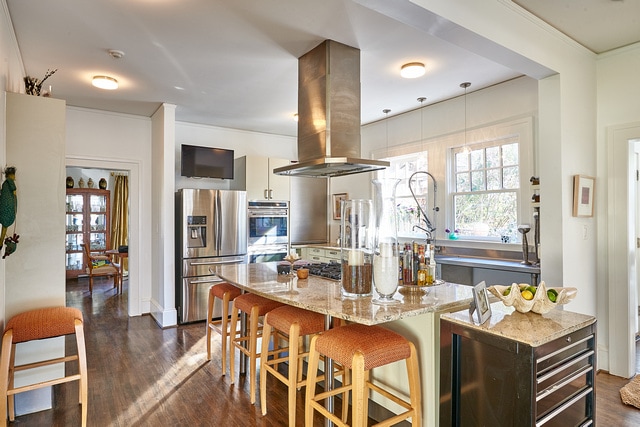 One of the six featured kitchens on this year's tour is an historic Myers Park residence, updated with a professional kitchen and spaces dedicated to entertaining. The owners of the home are renowned chefs Leslie and Bruce Schlernitzauer of Porcupine Provisions. Our Design-Build team restored their kitchen after a fire and transformed their back patio into a beautiful Outdoor Living space.
Symphony Guild of Charlotte's Press Release:
Six beautiful homes and kitchens are included in this sensory-packed Friday night/Saturday Kitchen Tour. From secluded, soaring contemporary spaces to seemingly traditional homes concealing hidden gems, this tour showcases trending ideas for kitchen makeovers, bold design and innovation, sustainable materials and efficient appliances. Included are delectable tastings and culinary demonstrations from chefs and artisanal food vendors, and the glorious music of Charlotte Symphony Youth Orchestra musicians.
Proceeds allow The Symphony Guild to support the Charlotte Symphony, its youth orchestras, and the Guild's award-winning youth music educational initiatives which include a week-long summer residential camp for Youth Orchestra musicians from 30 schools throughout our region. Founded in 1950, The Guild has raised over $6 million since then to support symphonic music, which included a 37-year continuous run of the Symphony Guild ASID Showhouse. The 2018 "Taste of the Tour" party and "Heart of the Home" Kitchen Tour follow in the footsteps of this philanthropic and cultural legacy to keep classical music alive in the greater Charlotte market.
Tickets are still available for the Taste of the Tour event on Wednesday, March 14. The Cocktail Party and Knock-Out Auction take place from 6 pm to 9 pm at Ferguson's Showroom (129 W. Summit) Click here to buy tickets or call 704-525-0522 for more information.