George Pierce Wadsworth House Renovation
Guthmann Construction, in conjunction with Graydesign Architecture, is honored to begin renovation work on the George Pierce Wadsworth House in the Historic West End neighborhood of Wesley Heights. The Wadsworth House is located at 400 Summit Avenue and is named after the original owner. George Wadsworth was a successful businessman who owned a carriage making company at the turn of the twentieth century.
Two years after George's marriage and the birth of his first child, he hired prominent NC architect, Louis H. Asbury, to design his home. Construction was completed in 1911 and the Wadsworth home was one of the earliest houses in the westside streetcar suburb of Wesley Heights, originally called Wesley Park on the plans. The large 2.5 story framed house, sheathed in wood shingles, sits on a 3-lot parcel and is a local example of the Arts and Crafts movement. A one-story carriage house, located at the rear of the property, is separated from the main house by a circular driveway.   A carriage house in Charlotte is rare and worth preserving!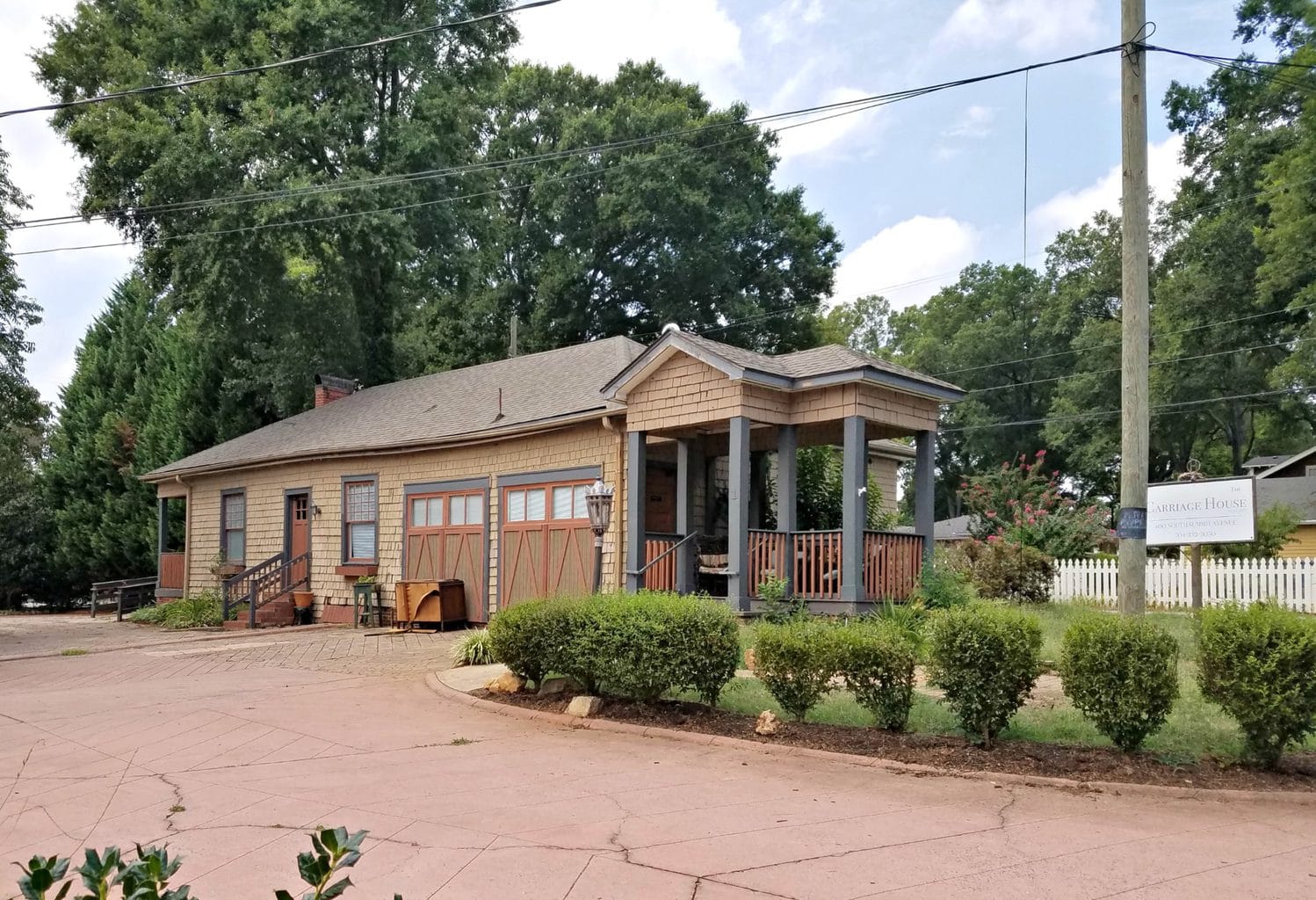 The George Pierce Wadsworth House has had many uses in the past century. After George Wadsworth died, the home was sold in 1930 to James Ramsey, an officer of Textron-Southern Company, and his wife, Pearl. During the time the Ramsey's owned the home, they converted part of the home into an apartment for others to use. In 1969 the home was sold to Worthy D. Hairston and his wife, Marie. The Hairstons used the Wadsworth House for commercial use. After Worthy passed away, Mrs. Hairston sold the home in 1977 to her nephew, Charles McClure. It stayed within the McClure family until sold in 2001 to Judge Shirley L. Fulton. Judge Fulton was the first black female prosecutor in Charlotte and was the first black female to sit on the Superior Court bench. She had a dream of using the Wadsworth House as a conference/event space, opening it up for the neighborhood to use. Today, Mark and Alyson Miller own the home.
Mark started thinking about making the Wadsworth House his family home while working at the Historic Landmarks Commission. Guthmann Construction will partner with the Millers in bringing the Wadsworth House into the 21st century with a full kitchen remodel, an addition on the back, restoration of a staircase and preserving a stained-glass window, creating an outdoor living space and more. Being a part of maintaining Charlotte's rich history is a privilege and we're excited for The Millers, as they envision raising their children and enjoying the vibrant neighborhood of Wesley Heights for many years to come.